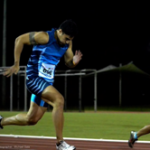 Meet Cole.  Cole is our running group and sprint, agility and strength trainer.
Cole Unasa is an accredited Personal Trainer, with over 10 years experience in athletics and rugby.
Playing rugby since the age of 4, Cole has experience in all aspects at club, state and national level and currently plays 1st grade Premier Rugby in WA, for defending champions Nedlands RUFC.
During the off-season Cole competes in athletics (100m, 200m, Long Jump) with North Beach Athletics. Becoming Victorious in the inaugural Perth 120m Gift and also 2011 – 4x100m Open state champions. Cole has his sights set on competing at the most renowned footrace in Australia known as The Australia Post – Stawell Gift.
To keep fit Cole is a firm believer of 'Healthy body, healthy mind & practice what you preach', he enjoys Boxing, Touch Rugby Wrestling and is also an avid Cross-fitter. Cole is studying Sport and Exercise Science to keep moving forward within the industry.
Book in with Cole or have a look at our group fitness timetable to see where his fitness classes are. You can book online through our Store.