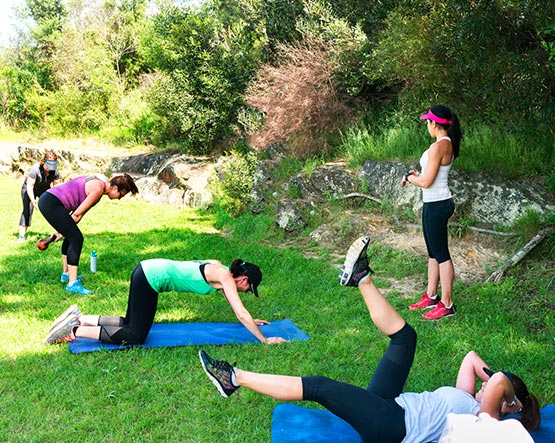 This has been designed as a 4 session x 4 week beginner's wellbeing program or can be used as a "check-back-in" program for anyone who falls off the being healthy wagon. It addresses 4 key areas:
How you are feeling now about your body image, current health, mental wellbeing, fitness level, and how we are going to get you on track.

Addressing tricky weight management issues, cooking techniques and nutritional education.

Increasing your strength and changing shape, cardiovascular health and fitness, looking well, feeling strong and carrying less weight generally

Fitness activities outdoors to increase feelings of mental space as well as being in a very different environment than usual, getting out and doing an activity such as hiking that you may not necessarily do.
Committing to a program and connecting with the same group of people regularly who all have a similar focus will give you a sense of belonging and personal achievement that you can do this for yourself. Outdoor group activities on location somewhere around Perth and based on the groups overall fitness level, could be hill walking, beach fitness, cycling, or climbing, all with a hint of team play.
It's an intensive one this one, and one you need to commit to over 4 weeks, including weekends. The theory behind this is that you can't get away with anything, we are always there backing you up to achieve best results! The longer weekend sessions will help you to remain focused over the weekends, ensure your commitment to the program and give you more time to have fun!
At the end of the program we will take a break then if you choose we can pop you into the next program or into one of our regular group training sessions suited to your level of fitness and your favourite times. You might choose at this point to do some one on one training, or join a workshop.
Week Prior to Commencement
Choose a check-in session to chat about your goals, take measurements and before photos (if you choose to), complete a questionnaire about your current health and wellbeing including mental health goals. From this information we can set the benchmarks of what you personally would like to achieve, and measure the outcome at the end of week 4. You will be provided with an e-book to follow along with the program.
Week following the end of the program
Book-in for a check-out session so we can see how far you have come and to provide your feedback.
*we may have guests attending to talk to you about nutrition and taking the cooking class from time to time, and pop up events outside the program schedule that you can attend such as hair and beauty, general health experts and stylists.
Commitment payment to secure booking

$200

Progress payment at the end of week 2

$200

Completion payment at the end of week 4

$200
CreateU4x4TM App
This is just a really simple way of committing to the program by photographing your daily routine, food, cooking, stress increasing and stress reducing activities. These photos are uploaded and sent to your Create Health & Fitness Personal Trainer who will provide you with feedback. This isn't a calorie counter or anything complicated, it's just photographing your day and providing a few comments to keep you committed.
Contact us to find out when the next program is starting or just to have a chat!