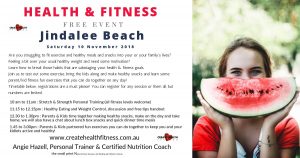 Come along and say hi at our free event this Saturday at Jindalee Beach, contact us to book in or for more information.
The timetable for this event is below or just drop in and say hi and get a quick personal training session for free!
10am to 11am – come along to our stretch and strength session, ideal for beginners and seniors looking to see what exercise is all about, or if you've trained all week and are looking to lengthen out those muscles.
11 to 11.15 – free for chats and personal training
11.15 to 12.15pm – If you are looking for some advice on weight loss and how to eat more healthily then this is a good time to come along.  Feel free to share your stories and ask questions.  You'll receive a free mealtime options sheet.
12.30 to 1.20pm – Parents & Kids time together making healthy snacks, making them on the day and taking some home, we will also have a chat about lunch box snacks and dinner time meals.
1.45 to 3.00pm – Parents & Kids partnered fun exercises you can do together to keep you and you're family active and healthy.  Let the kids know that daily exercise is part of your lives, just like brushing your teeth! but funner!
If you'd like to do a PT session, just come along between 10am and 3pm and say hi! It's all free!
The location is Jindalee Beach, to the left of the Jindalee Beach Shack.  I'm the one in the tent!
Hope to see you there, call or text on 0439 523 619 or send an email to angie@createhealthfitness.com.au, send me an email via the https://www.createhealthfitness.com.au/contact-us/ page, or via Facebook CreateHF, insta create_health_fitness.