This jam is inspired by citrus season and a need for home made safe products, free from artificial nasties!
I just took about 6 oranges and 2 "lemonades" I think that's what you call them, someone correct me, they look like a cross between and orange and a lemon to me and have a lemony taste but still sweet like an orange.
I had fresh mint and thyme in my garden so I decided that might be nice, and it worked!
Directions:
Peel your citrus, remove seeds, etc
add batches into your bullet blender and roughly blend, to your taste
put into a pan of some sort, doesn't need to have a lid, I used an open pan
Add in 4 tablespoons of honey (I used Darling Bee Products, locally available at Claremont Markets)
Cinnamon – I like lots, but to your own taste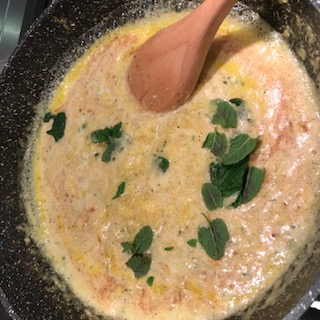 Mint leaves
Thyme
Boil and simmer until it has a consistency like jam
Leave to cool
Enjoy!
You can add this into some natural yoghurt for a bit of natural citrus sweetness, as a condiment to a meal or obviously on your fave seeded toast.
I don't eat anything from jars or sauces, pre-made generally because I eat free from gluten and chemicals due to migraines and food sensitivities so I like to trial new clean recipes. If one of your migraine triggers are citrus then avoid the citrus and maybe try another safer fruit for you… but avoid anything shop bought if you can, they can have some hidden nasties…
If you're suffering from food sensitivities and migraines, and would like a nutritional consultation, please feel free to Contact Me.